Harris Williams is my 2nd great grandfather and researching his life is how my interest in learning about my ancestors began. When I started out, there wasn't anyone on either side of my family that I knew to be the "family historian".
My only living grandparent was my grandmother, Ellen (Williams) MacCammon. As you do when you first start researching your family, I wrote to her and asked what she knew about our family. One document she sent me was her grandfather Harris Williams' Civil War discharge papers: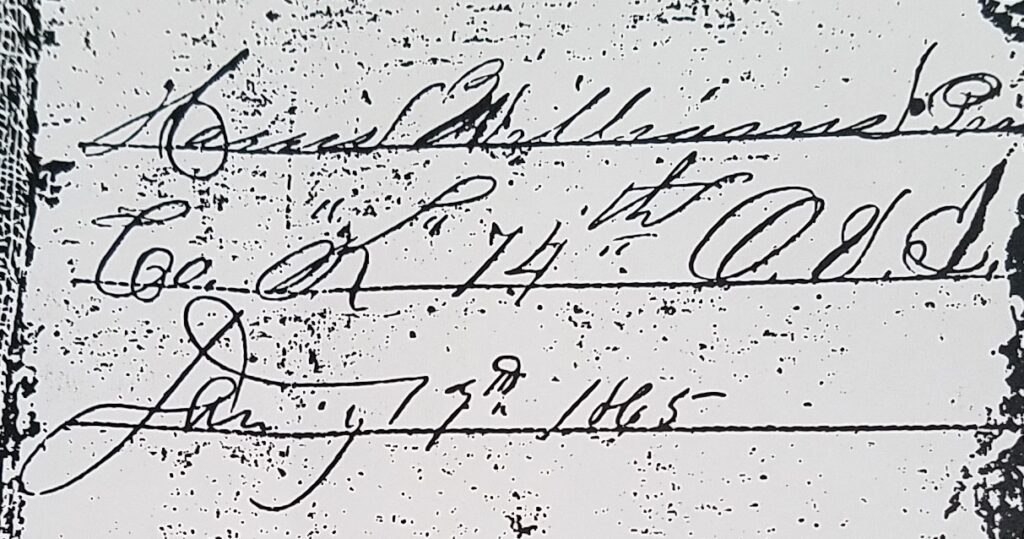 The document was a puzzle in itself, so to speak. My grandmother did her best to photocopy the large document and I received it on multiple letter-sized sheets of paper.
This was the foundation of how my family search began. From that document, I was able to determine some of the important clues I needed to continue my research of Harris Williams: He was born c. 1843, and prior to the war he lived in southwestern Ohio near Reesville, where he was mustered into Company K of the 74th Ohio Volunteer Infantry.
Getting to Know Harris
The information from Harris' discharge papers led to searching a variety of genealogy resources. Investigating these resources led to finding records which helped me put together the facts surrounding his eventful life:
His full name was Joel Harris Williams
He was born in the farmlands of southwestern Ohio
During his military service he traveled as far as North Carolina
He was married twice and fathered 12 children
From Ohio, he moved to Minnesota and briefly explored the frontier of eastern Montana
Harris was born Joel Harris Williams in February 1844 in Clinton County, Ohio. He was the third of eight children born to Joel Harris Williams II and Sarah Jane Swords.
As with some circumstances surrounding our ancestors' lives, we cannot always answer "why" to a lot of things. I'm going to assume that Harris decided to use his middle name because there were two generations of men prior to him named Joel. He may have wanted to make a name for himself, or perhaps he just liked Harris better!
Finding confirmation that his first name was Joel was difficult. All the evidence I had about Harris pointed to Joel being his given name. Early census records listed him as JH Williams and Joel H Williams. I really wanted to find evidence of his full name if I could. My exhaustive research failed to find any birth record. If evidence of his birth did exist through church records, it might very well have been lost to time. I know I searched high and low to try and find it!
One of the most unlikely sources alleviated my research anxiety….a published county history. This is where I must stress the importance of cluster research (researching siblings and other extended family members). While researching one of Harris' brothers, Dewitt Clinton Williams, I found a biographical sketch of Dewitt and the Williams family. The sketch was in a 1904 Cherokee County, Kansas published history. It appears that Dewitt had moved to Kansas in the 1880's and was a well respected member of the community. This good standing warranted a written account of his life that helped me immensely in my Williams family research. In one section of Dewitt's sketch, a list of his siblings included a "Joel Williams of Rockford, Minnesota". Through census records, I found Harris in Rockford around the time the county history was published, and there you have it!
Harris' Civil War Service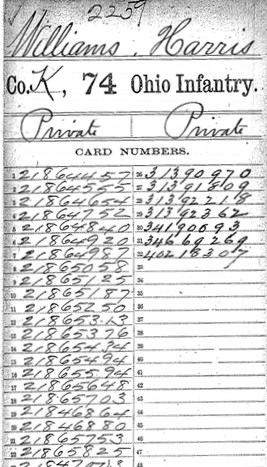 Along with the discharge papers my grandmother gave me, obtaining Harris' compiled service records from the National Archives gave me a sense of what his time during the war was like. Through the company and hospital rolls contained in his file, I discovered that he spent a great deal of his service in Tennessee camps at Nashville, Murfeesboro and Chattanooga. An online search of the 74th Ohio Infantry provided a history of the Infantry's movements and battles. This included the Siege of Nashville, the Battle of Stone's River, engagement in the battle of Chickamauga, the siege of Atlanta and Savannah, and the campaign of the Carolinas. After four years, Harris was sent home from Goldsboro, North Carolina in March 1865 at the expiration of his term of service.
---
Image to the left is the cover sheet to Harris Williams' compiled service record obtained from the National Archives.
Harris' Post-War Life In Ohio
About two years after he returned home, Harris married Mary C. Stephens/Stevens on 6 June 1867 in Clinton County. Harris and Mary had six children:
Charles H., abt. 1867
Joshua K., abt. 1869
Joseph Henry, 1869
Martha J., 1871
Luella J., 1872
Dustan, 1873
Based on birth records found for their children, Harris and Mary moved around a bit. They crisscrossed the border of Clinton and Greene counties and lived in four different towns between 1870 and 1872. By 1873, they had moved over 100 miles north to Van Wert County, as evidenced from their son Dustan's birth record.

---
Census records during this time list Harris as a laborer. Considering the economic situation during post-war reconstruction, finding work may have been difficult. Harris may have had to relocate his family where the jobs were.
After 1873 in Van Wert county, there is no documentation of Harris and Mary with their children.
A 14-year old boy named Charles Stevens was found in the 1880 census living in the household of his grandparents, Joshua and Lucinda Stevens (Mary's parents) in Clinton County, Ohio. Charles Stevens, being age 14, would have been born abt. 1866, which is consistent with information concerning Charles H. Williams' age from the 1870 census, when he was living with his parents, Harris and Mary. It is possible that the census taker mistakenly wrote Charles' surname as Stevens instead of Williams.
A male named Joseph Williams, the same age as Harris' son Joseph, is found in the 1880 census. He is listed in the household of a man named David L. King in the town of Liberty in Clinton County, Ohio (where Mary Stephens was living before her marriage to Harris). Joseph's relationship is identified as a cousin. So far, I have not been able to confirm if this is Harris and Mary's son.
I have been unable to find any records for their son Joshua, aside from his appearance in Harris' household in the 1870 federal census. I have also been unable to find any record of Harris and Mary's two daughters, Martha and Luella, other than their birth records.
Harris' youngest child Dustan appears in the 1880 census living with Harris in the town of Greenwood, Hennepin County, Minnesota. Harris' wife is listed as a woman named Ella (she is my 2nd great grandmother).

Researching Ohio marriage records between 1874 and 1880 led to my discovery of an 1879 marriage record for Harris and Ella Woodard. They were married in Butler County, which is in close proximity to Clinton and Greene counties in southwestern Ohio.

Putting the pieces of my research together, it is possible that Mary, Joshua, Martha and Luella, may have died some time between 1874 and 1879. Along with the economic hardships of post-Civil War life, there were epidemics. According to some recent research I did, Cholera outbreaks occurred in the Cincinnati area in the 1860s and 1870s. Searching for death records for Mary and her children has proven unsuccessful (I will keep searching). Based on the family's movements between 1867 and 1873, the deaths could have occurred in any of at least two or three counties in western Ohio.
It is very likely that being newly widowed, Harris needed to send two of his surviving sons to live with relatives, taking only the youngest son with him as he began his marriage to Ella.
Life in Minnesota
I certainly could not blame Harris if he wanted to start a new chapter in his life in a place far away from Ohio. Within six months of his marriage to Ella, they had moved to Minnesota, where they had six children:
Olive, 1881
Allen, 1882
Jennie, 1883
Chester, 1885
Marion, 1887
Harris, 1891
Harris farmed land in Hennepin County for a few years. By 1890, he had moved a little farther northeast into Wright County, where my great grandfather, Harris Williams was born.
The Montana Move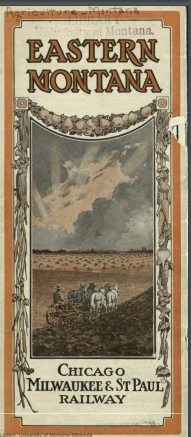 Another event in Harris' life occurs right around 1905, where I ask myself, "What was his motivation?" It is unclear why, but at that time, at about age 60, he decided to pack up his family and move to eastern Montana! Perhaps it was one of his elder sons who had the idea. Maybe Harris was a traveler and pioneer at heart. Possibly, it was health issues…I'm not sure I'll ever know for certain, but the area of Miles City, Montana was booming at the time and there were many pamphlets and brochures produced by the expanding railroad companies, who described the farmland as fertile (it was corporate false advertising). I found a 1913 brochure from the Chicago, Milwaukee & St. Paul Railway which was a few years after the Williams family made the trek, but perhaps it gives some insight to the opportunities he and his family were hoping for.
---
As circumstance would have it, I actually traveled to southeastern Montana a few years back. I don't think it's a place I would have ever thought to have gone had it not been for my family history. I am certainly glad I decided to go. Don't get me wrong, you would not catch me there in the middle of January, but in July it certainly is a beautiful place!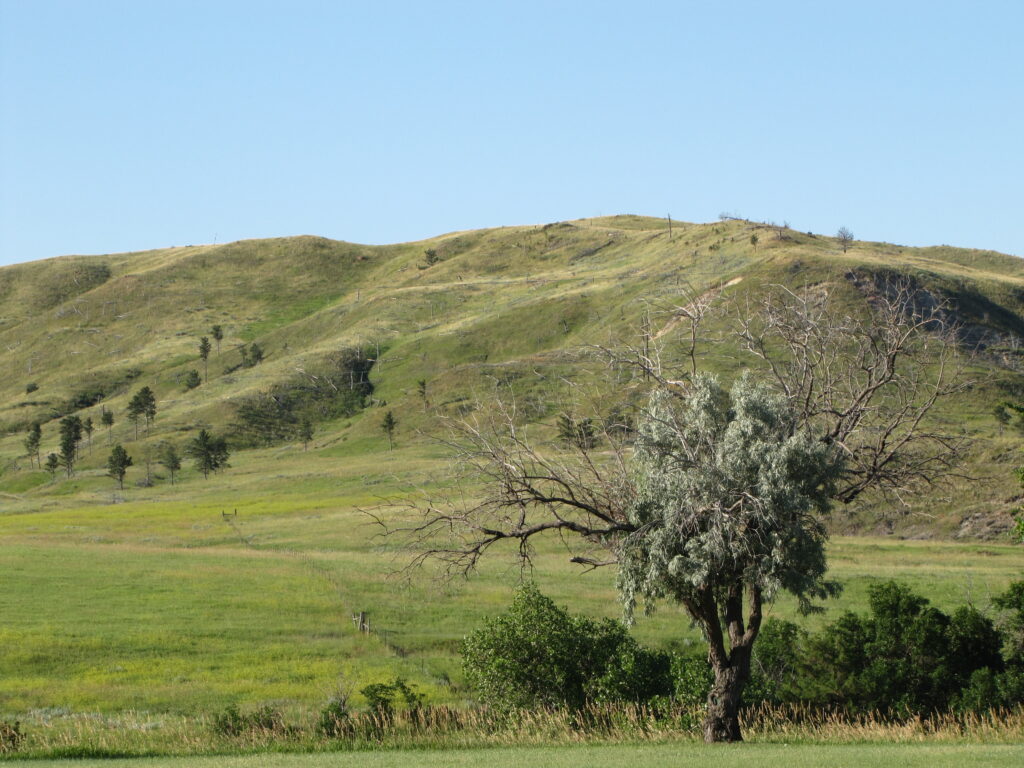 When I was there, the locals told me I was lucky. Due to the rainy spring, the Great Northern Plains, which is normally desert-like, turns to a landscape with every shade of green imaginable! My photo to the left does not do the greenery justice.
I was only able to spend a day in Miles City but I did get to visit the city clerk. The staff found an old map showing the Williams' property. They gave me directions on how to find where the old Williams homestead once stood. The property is a developed neighborhood now, but it is always special to find yourself in a place where your ancestors once lived.
---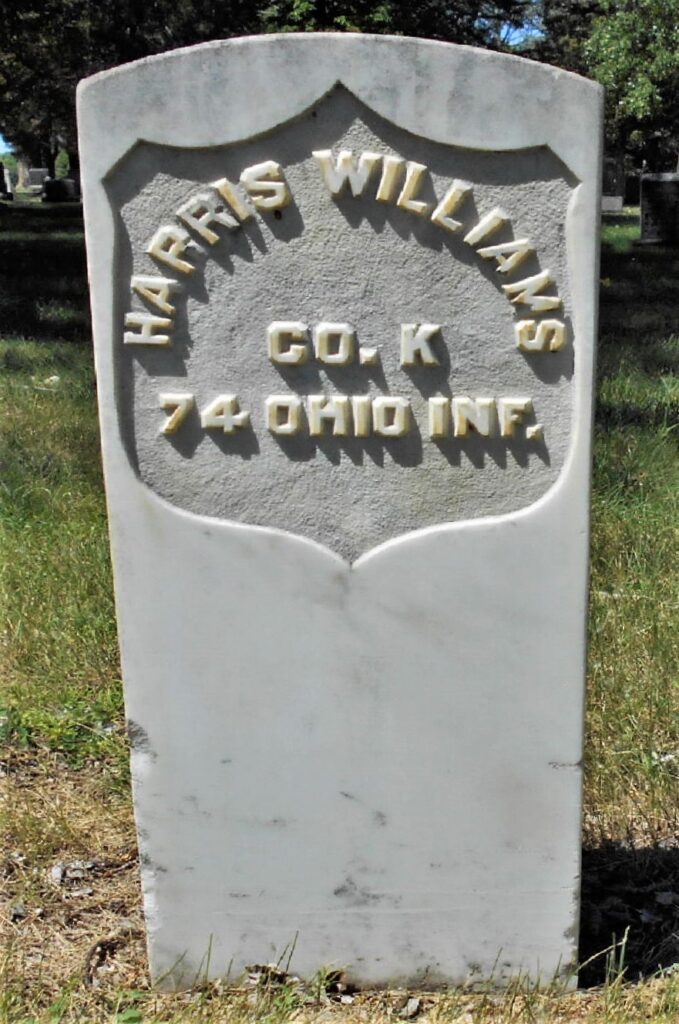 As for Harris, the change seems to not have been a good one. He died in 1907, just a short time after arriving in Miles City. The Williams family seemed to disburse after his death. A couple of his children stayed in the area a few more years. One went to western Montana. Harris' youngest son, my great grandfather also named Harris, met a lady named Polly Jane Wood, who had traveled from upstate New York out to the northern plains (another motivation I am unsure of). Harris and Polly married in Miles City in 1919 and shortly thereafter traveled back east to New York's Warren County, where they settled and raised their family.
Their daughter Ellen was my grandmother. After getting married, Ellen and her husband Jack ended up in Saratoga County. Their oldest son John was my father…and that leads to the beginning of my story!
So, a fragmented photocopy of a Civil War document led to my interest in genealogy. Researching Harris Williams was the start of a life long pursuit to understand the family who came before me. When it comes to comprehending a person's life experience, I know what I have learned about Harris is just the tip of the iceberg. But playing the role of family history detective, and piecing together ancestors' lives as best as I can, is a rewarding pursuit which helps me discover a little more about myself in the process.
---
Researching Your Own Family
Do you want to learn more about researching your family history? I would be happy to assist you. You can learn more about my research services, or just click the button below to send me an e-mail inquiry.