Most of my maternal ancestors are from various parts of Ireland. I have had the most success researching John and Julia McDonald, my great-great grandparents. Using a combination of online and on-site research, I have been able to get a sense of who they were, which for me, is one of the joys of genealogical research.
County Laois, Ireland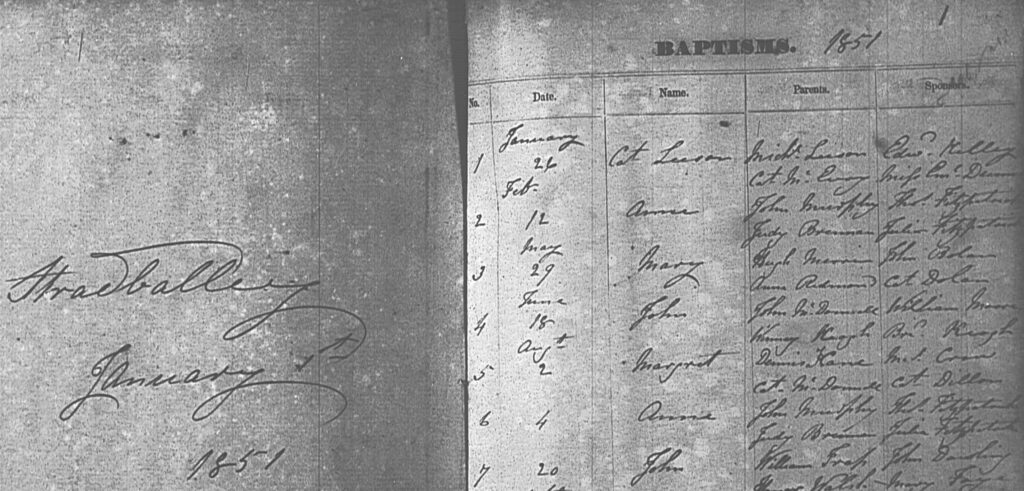 John McDonald was born on June 18, 1851 to John McDonald and Winney (Keogh) McDonald in Stradbally, Laois, Ireland.
Julia McDonald was born in Ireland c. 1864 to Lawrence McDonald and Anastasia (Carroll) McDonald. According to information I received from a newly-found relative living in Ireland, John and Julia were distant relatives who lived in the same county.
Coming to America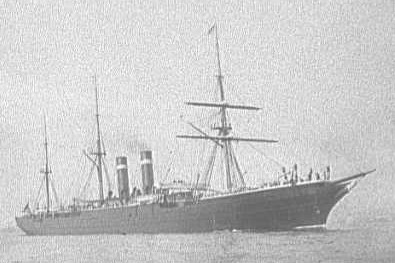 John immigrated to the United States when he was twenty-nine, first settling in Albany, New York. Soon after, Julia came to America and the couple were married on April 4, 1883 at St. Joseph's Church in Albany.
Settling in Hudson, New York
By 1885, John and Julia relocated to Hudson, where John started up his own business on South Front Street. Over the years, his enterprises evolved from first owning a saloon, then a restaurant, and eventually a hotel.
Both John and Julia involved themselves in Hudson's community activities. John volunteered as an exempt member of the Washington Hose Company and served on the Hudson Council. Julia was a member of the Women's Catholic Benevolent Legion. The McDonald family attended services at St. Mary's Church.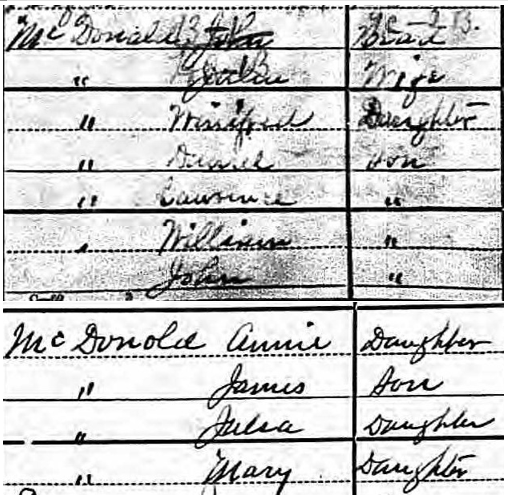 John and Julia had a large brood! Here is the McDonald family as counted in the 1900 U.S. census. My great grandmother, Winifred was the eldest child. The other children listed are Daniel, Lawrence, William, John, Annie, James, Julia and Mary.
Family Misfortune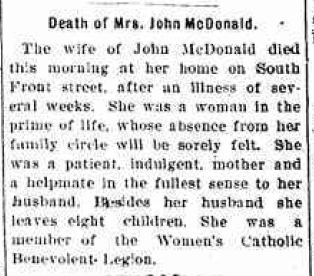 Sadly, a family tragedy occurred in 1901, when at 36 years old, Julia died suddenly of Typhoid Fever. When she died, Julia and John's children were between the ages of 3 and 17 years old.
In what was a considerable sum for the time, the Women's Catholic Benevolent Legion donated $1,000 to the care of Julia's children. At today's value, the amount would be the equivalent of just over $30,000.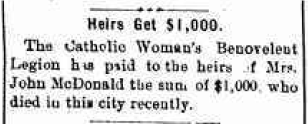 It is no surprise that in 1904, John remarried to a woman named Mary Grady. Sometimes when researching ancestors, the "why" of particular events cannot be known. Myself, I would like to believe that John found companionship as well as a mother figure to help raise his children. John ended up marrying a third time after Mary's death in 1912.
John McDonald's Passing
John McDonald died in May 1916. He is buried with his first wife Julia and his second wife Mary at Cedar Park Cemetery in Hudson.
After first finding and reading his obituary, I was pleased to know that he was so well liked and respected in the community.

"The demise of another well known and highly esteemed resident of Hudson, John McDonald, Sr. of 42 South Front Street, occurred this morning. Last week Mr. McDonald became quite ill and his condition gradually grew alarming. Friday he was removed to St. Peter's hospital, Albany for an operation. His condition was so precarious that surgeons deemed it not advisable to operate. He died shortly before 11 o'clock this morning. Mr. McDonald was 62 years old and possessed a large circle of friends, who will be shocked to learn of this death. He possessed an unassuming nature, a kindly disposition and was exceedingly devoted to his home. For many years he conducted a hotel on South Front Street, but of late years was engaged in the restaurant and confectionery business at 42-44 South Front Street. Honest and upright in his business dealings and possessing a jovial disposition he made friends easily and by his sincerity held their confidence. He was an exempt member of the Washington Hose company and while an active member displayed much ability as a fireman. He loved children and had the welfare of the community in which he lived so long at heart. He was a brother of Patrick McDonald, the well known local dry goods merchant. He also has brothers and sisters in Ireland. Besides his wife, whom he married not long ago, he leaves five sons, Daniel, Lawrence, John and James of Hudson, and William of New York City, and four daughters, Mrs. Thomas Keegan of Albany; Mrs. James McArdle of Springfield, Mass., and the Misses Julia and Mary McDonald of Hudson."
Research Approach
Most of the records I found documenting John and Julia McDonald were found online. Many hours were spent researching Irish birth records, newspaper collections, city directories, and census records.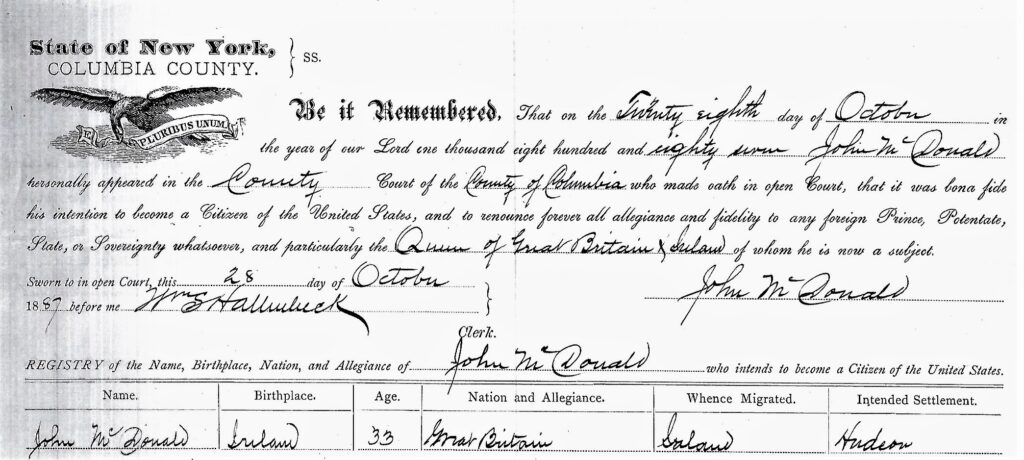 In order to obtain John's naturalization record, a trip to the Columbia County Clerk's office was necessary. Although there are over 5 million records available through online naturalization databases, covering New York alone, I could not find a record for John. Persistence definitely pays off because I was able to find a couple of supplementary ledgers at the Clerk's office, which may have been overlooked during microfilming. There is where I found John's naturalization record. Contrary to popular belief, not everything is online!
My next research goal is to obtain a copy of John and Julia's marriage record. Due to the time period they were married, a civil record does not exist. A distant cousin did some diligent detective work and contacted a parish in Albany that inherited St. Joseph's church records. John and Julia's marriage record does exist, although it is apparently in poor condition and is in Latin. I have been told that the parish priest is going to try to transcribe the document for us, so someday we will be able to have our only documentation of their marriage.
Do You Want To Make Discoveries Too?
Would you like to learn more about your ancestors' lives? If so, send me an e-mail inquiry. I would be happy to discuss your family history with you.