FamilySearch and the New York Genealogical & Biographical Society are collaborating on a multi-year project to index New York State's land records. The records (some dating back to the eighteenth-century), including deeds and mortgages from county courthouses, were microfilmed by the LDS church in the 1960s and 1970s.

The microfilm was eventually digitized, but the collection was not electronically indexed. Up until now, it has been necessary to look through a county's records by browsing, page by page, through a digital version of the original index of surnames. If you find the ancestor you are looking for in the index, you note the volume and page number referencing the original ledger containing the full land record. Next, you look for the digital version of that ledger and browse through to the page number you need. Whew! It definitely takes persistence. Understanding the importance of these records, I have labored through many of these records in my research work.
That is why I am happy to volunteer to assist with this indexing project!

Research Value of Land Records
Land records, which document more ancestors than any other type of record, are definitely an under-utilized resource.
Why are land records important in genealogy? They document more ancestors than any other type of record, not only recording purchases of land, but also:
The inheritance of land
In cases where a married person sold property, both the husband's and wife's names generally appear, and the marital relationship will be stated
To assure clear title to a new buyer, a seller was required to document any prior land transaction, which could potentially lead back to the original owner (and perhaps more ancestors!)
My Volunteer Experience
I began by viewing an extremely helpful webinar produced by the New York Genealogical and Biographical Society. The video presentation provided helpful context to the project and straightforward instructions detailing the indexing process.
The process involves entering information found in the original surname indexes onto an indexing template/form. The template has fields and web tools that help make the process simple and efficient.
I have only been indexing records for a couple of weeks now, but generally, I have found that a batch takes about an hour. I am sure my time will improve as I get more experience under my belt! Factors such as who created the record and when the record was created can determine the ease or complexity of the indexing process.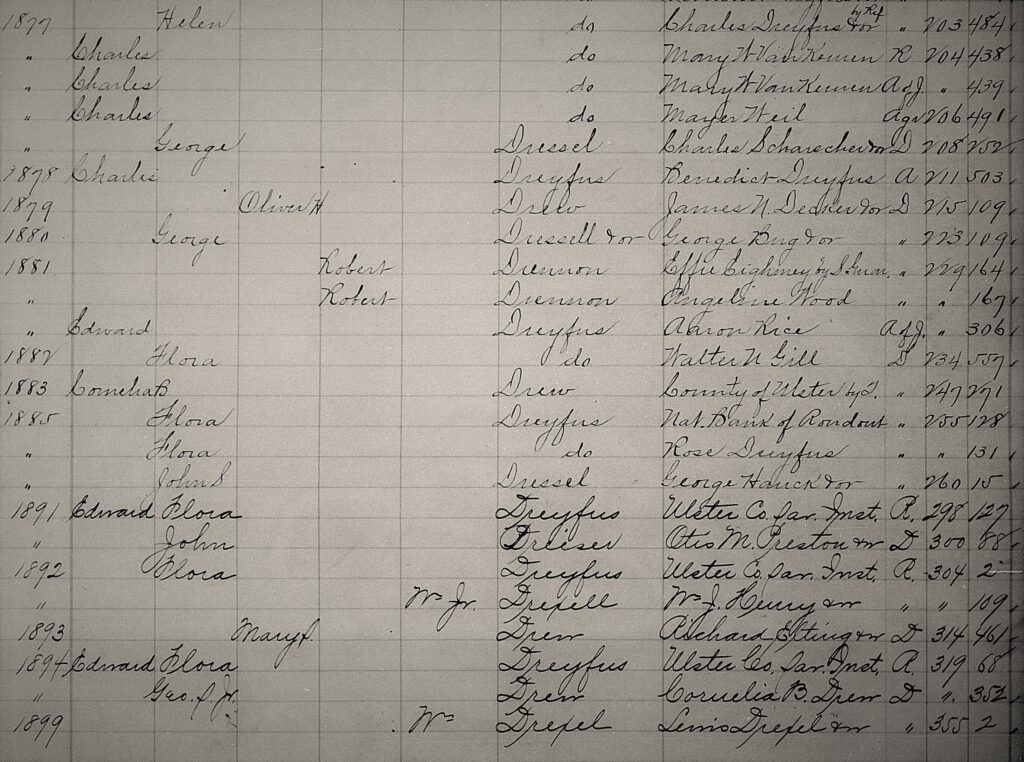 So far, I have not had any problems interpreting the handwriting in the batches I have indexed. Safeguards have been set up in the system so you can indicate if record entries are illegible.
The batches are divided into different geographic regions. Not all regions are open for indexing all at once. I wish I could work on indexing Columbia County (where I live), but alas I will have to wait until the Capital Region batch opens up. Right now, I am working on records in neighboring counties (Ulster and Orange) in the Hudson region. My plan is to tackle one batch a day for most days of the week, as long a time permits.
I am finding this work a very insightful experience. This improved familiarity with the records can only help to improve my expertise in the genealogy field.
Updates and Progress
As I become more involved in the project and get more acquainted with the New York land records collection, I hope to be able to provide updates on how my efforts are progressing, as well as the achievements of the project as a whole.
Assistance/Advice
Would you like advice or assistance in using New York land records? Do you have general questions about your New York ancestors? Click the link below to send me an e-mail inquiry. I would be happy to help with your family history project!